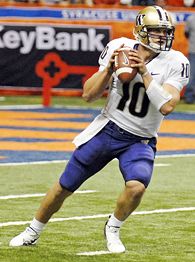 It's a picture perfect day: rich, blue skies and piercingly sunny and warm. But on the horizon is a dark cloud. And if you look closely, you can see more coming.
Off to its best start since 2001, the University of Washington is loving college football right now. But Huskies fans, pay attention to the forecast.
Coming into the season, most analysts agreed that
UW had the toughest schedule
in the nation. So far, so good, though. The Huskies beat Syracuse on the road, then ended the longest winning streak in the nation by
beating Boise State
at home.
Sunny skies.
Votes
in the AP and USA Today polls. Fans jumping on the bandwagon.
But #10 Ohio State lurks. And so does #11 UCLA, at the Rose Bowl. Let's not forget top-ranked USC. If that sounds tough, there's also #8 California, #21 Oregon, rival Washington State and "should-beats" Hawaii and Oregon State, both on the road.
If you think you can handle it, here's a look at the Huskies'
full schedule
.
Make no mistake, the tide is turning for the Huskies. The defense has held its own, and the offense has reawakened behind redshirt freshman Jake Locker. For the first time since 2000, the UW is looking like a team that should be taken seriously.
That team, coached by Rick Neuheisel quarterbacked by Marques Tuiasosopo, beat Purdue in the Rose Bowl and finished the season ranked third. A little deja vu would be nice, right?
It won't happen this year, not with this schedule. And
next year
doesn't look much easier.
More sunny skies are in your future, Huskies fans. But storm clouds will be settling in for the next few weeks, so I'd suggest you grab an umbrella.